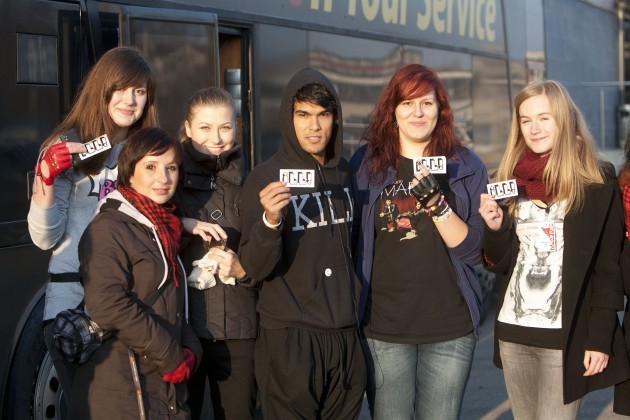 This Thursday evening "30 Seconds to Mars" had their very first show in Lithuania, at "Siemens" Arena. The band of MTV generation tried to protect their privacy and avoid publicity. Despite of it, couple of fans were gathering next to the arena and willed to see their idols.
Most of the fans who were waiting there, were from Poland and they explained the reason for all of this - they're simply addicted to the band and always try not to miss the chance to meet with their idols. They also said that they're going to attend the shows in Poland next week.
As the fans were gathering next to the service entrance, one of the tour members, Braxton Olita (keyboard), came out to chat with the fans. He was posing for cameras and talked with the web portal DELFI.
According to B. Olita, it's the first time when the band is in Lithuania and he also admitted that he knows almost nothing about this country. In spite of it, they are really excited for the show and want to see their fans here.
He also claimed, that the band are not planning to stay here and they're leaving Lithuania after the show. (According to some sources, they had to stay at one of the hotels, but they didn't).
Few hours before the show, the band vocalist Jared Leto arrived, but he didn't show up to the fans and was driven straight to the arena.
Original Source:
Delfi.lt
.
Thanks ThisIsZeri and GretaCubbins for the link and the translation.